If you are a dental practice owner, chances are you will be approached by a Dental Service Organization (DSO) at some point. DSOs are slowly becoming a mainstream corporate approach to managing dental practices and, as the numbers would have it, don't seem to be going away anytime soon. Although DSOs are not legally allowed to operate in every state, if you are considering selling your practice to a DSO, make sure you do your due diligence and understand what that will mean for you and your practice before signing a contract.
What Is a DSO?
DSOs or "Dental Service Organizations", are independent business support centers that work with and buy out dental practices in the U.S. They provide administrative and business management support to the practices they acquire, while taking over ownership. According to the Health Policy Institute in conjunction with the American Dental Association®, as of 2017, "8.8% of U.S dentists were affiliated with dental service organizations (DSOs)." That number has risen from 7.4% in 2015. However, with no real data being tracked on the subject, the true level of DSO ownership is hard to gauge. Many dentists are drawn to DSOs because they take on the tiresome and often overwhelming business responsibilities of a dental practice owner. A few key responsibilities that a DSO will take on when they acquire a dental practice include:
Human Resources

Employee Benefits

Billing

Accounts Receivable

Bookkeeping

Marketing

Public Relations

IT Support

Business and Office Management Services

Legal Support

Ownership Duties
Sound interesting? Consider the following: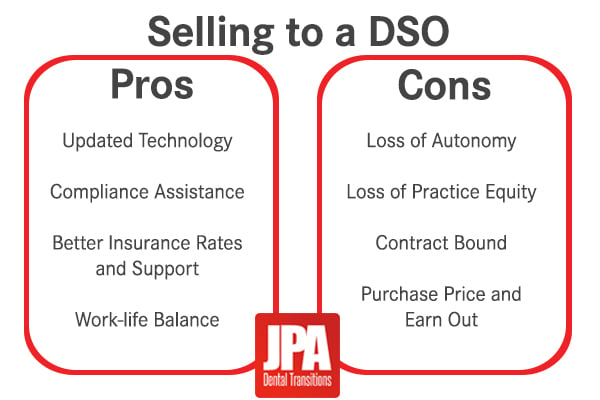 These are the questions to ask yourself as you consider the sale of your practice to a DSO.
What sacrifices will you (dental practice owner) be making should you sell your practice to a DSO?

How will your life, and the lives of your team members be easier through this transition? Does the good negate the bad?
The Benefits of Selling Your Practice to a DSO
Once you have performed your due diligence, spoken with past and current DSO associates, determined their revenue goals, and more you should be well equipped to select a DSO (if that is your decision) with values that align with your practice's. Here are a few things to expect should things go as planned.
UPDATED TECHNOLOGY
If the DSO is experienced, successful, well-funded, and profitable, then they can afford to install the latest in dental technology in all of their acquired dental practices. They see the success of the practice as an investment and what better way to cut down on chair time and improve patient experience than through highly efficient technology?
COMPLIANCE ASSISTANCE
Often the stress of meeting OSHA requirements is absorbed by the DSO. They can create regulations that will keep the practice compliant, you can just focus on practicing dentistry and following the guidelines they've put in place.
BETTER INSURANCE RATES AND SUPPORT
No one loves processing paperwork, especially for insurance which requires continual refreshers as the policies grow and change with the times. DSOs will handle the headache of dealing with insurance companies and their endless regulations. Moreover, DSOs may be able to negotiate better rates for your patients. This could mean more profitability for their practice down the road as patients will be able to afford more dental work through better coverage.
PRACTICE GROWTH AND COLLABORATION
If you have ever benefited from attending a study club, a hands-on lecture, or continuing education events at dental conventions, then you understand the importance of mentorship and learning from your peers. If you were to join a DSO, you'd have access to their other dental partners. This offers valuable networking opportunities and peer to peer support and continuing education in the ever-growing dental industry.
WORK-LIFE BALANCE
The overwhelming demand of management and administrative tasks associated with owning a business while actually practicing dentistry can quickly make you feel overextended and burned out if you are not careful. A DSO can take on the business ownership and admin side of your practice so that you can focus on what you love: practicing dentistry and caring for patients.
The Negatives of Selling Your Practice to a DSO
LOSS OF AUTONOMY
You will be stepping down from employer and moving to employee, and you will need to follow the employment rules laid out by the DSO. For some, this could be a liberating experience, for others however, they may have a hard time giving up the reins of their practice. The practice's identity changes and often becomes a part of a larger identity. You should understand that it is now part of a larger group, not the solo practice it once was.
LOSS OF PRACTICE EQUITY
By selling to a DSO, you are giving up your practice equity. This means that you will have to rely on a contracted rate or salary laid down by the DSO who bought your practice. Taking the time to negotiate a compensation rate up front is extremely important. The key to a successful transition to a DSO is planning for the post sale.
CONTRACT BOUND
Preparing for retirement or simply selling your practice can be an emotional rollercoaster. Something to keep in mind when you're considering a DSO is what types of changes they will make, and are they changes that you will be ok with. This is why it is so important to follow up with past and current DSO associates.
Does this DSO habitually replace the staff of newly acquired practices with their own?

Are they making the experience less personal for your patients?

What does their doctor-patient approach look like?

Remember, after closing it is no longer your practice, but to you things may look the same. Can you handle running the practice for someone else?
PURCHASE PRICE AND EARN OUT
The DSO model of acquisitions is usually tied to the seller remaining in the practice. Although this is not always the case, the majority of DSO purchases require the seller to continue working in the practice for some negotiated period of time (1 to 2 years). In order to ensure the seller remains after the sale, and to create stability for the DSO, some portion of the purchase price is tied to an "Earn-Out". An earn-out is simply the remainder of the purchase price. For example, at closing, the DSO may pay 90% of the purchase price upfront, and the remainder of the purchase price is paid as an earn-out. The earn-out will have terms and conditions and should be inspected closely to make sure they are agreeable. In our example, the remaining 10% may be payable only after the completion of 2 years of employment. Be sure to understand your earn-out terms.
Examine WHY You are Selling Your Practice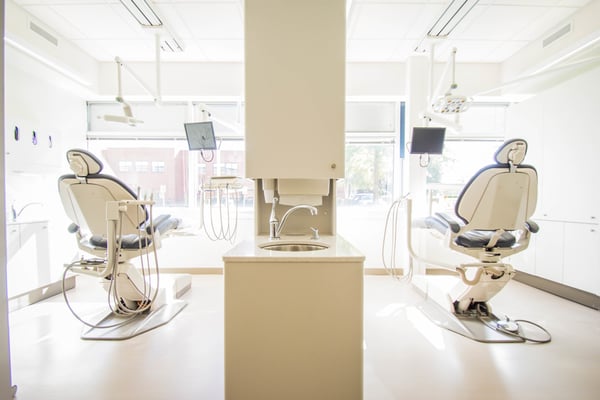 There are many reasons that dentists opt to sell their practice. It helps to understand why you have decided on this course of action so that you can select the best buyer for your situation (whether that be a DSO or not). Some of the most common reasons doctors sell their practices include:
Retirement preparation

Clinical focus (not Interested in non-clinical, administrative duties)

Work-life balance
For dental practice owners who are considering selling their practice choosing the right buyer is an important decision. Before jumping on board with "corporate dentistry" as it is often referred, you should properly vet the DSOs you are considering.
Questions Your Prospective DSO Buyer Needs to Answer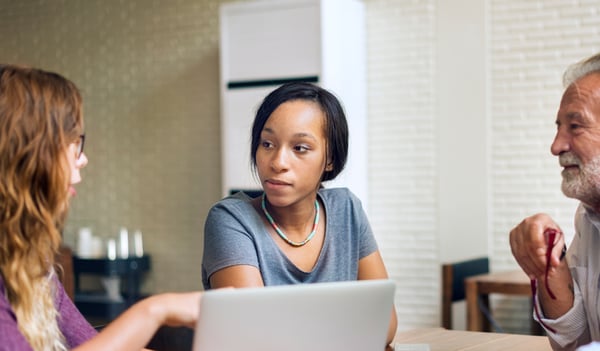 How Much of the Buyout Will You (the Dental Practice Owner) Receive at Closing?
Depending on the DSO, you could potentially make a good deal more selling to them versus selling to an independent buyer. If you are transitioning out of your practice, this may be a better option as it will provide you with more retirement funding. Questions to ask include:
What percentage of the buyout will you pay upfront at closeout? If 100% - Good!
If less than 100%...
Can we negotiate a 100% buyout upfront?
Is the holdback percentage prorated or are there contingencies that must be met to receive the full payout?
What are the contingencies for receiving the rest of the payout?
Generally, a practicing dentist will have to stay on for a couple of years while gradually supplementing hours with an associate doctor.
Are there production goals that must be met for that holdback money or is it just a timeframe?
How Will You (the Dental Practice Owner) Be Paid After Closing?
Make sure you know upfront how you will be paid after the DSO takes over your dental practice. Will you be receiving a salary with a bonus paid on a bi-weekly schedule and receive a W-2 at the end of the year? Will you be paid a portion of the profit? Depending on the number of years you will need to stay on as a practicing dentist, this can help you plan for your future.
What Is the DSO's Reputation?
Can I get a list of sellers who are current associates or past associates?
There are many DSOs to choose from, so how do you know which one will be the best fit for you and your practice? Check into their background and do your due diligence, they most certainly have done their research on your practice. The best way to learn their true reputation is to ask current and past associates, ie. past and present doctors, like you, who have already made the decision to work with them. It is absolutely reasonable to ask for a list of sellers that are their current or past associates. Call and talk to these people to see how it went and if they liked working with the DSO.
Think about it this way, if the DSO is secretive or unwilling to provide you with this information while you are considering working with them, would that put you at ease? Consider it a test - to pass the first part they would need to share this information with you knowing you would be performing a thorough background check on them. To pass the second test, of course, there would need to be an influx of positive feedback and experiences from their past and current associates.
What Do the DSO's Financials and Revenue Goals Look Like?
Understanding the DSO's financials, revenue goals, and successes is important because you want to know the path your own practice will take should you opt in to working with them.
Private Equity, Third-Party Lenders, or You (Dental Practice Owner)
If the DSO is private equity funded, this likely means that the DSO will be extremely growth oriented and they will be weighing and quantifying every decision they make for your practice. The same could be said for third party lenders, the DSO won't receive the funds they require unless they prove to be a fruitful investment for the lender.
How Many Locations Does the DSO Have?
Are you their first or second acquired dental practice or do they have multiple? This is good to know for many reasons. The first, it will give you a better scope of prior experiences to analyze. More practices that have used this DSO means, more testimonials to what it is really like working with them.
This could also give you an idea of how smooth the transition will be. If they have gone through the process numerous times, then they know the required steps and can be a truly helpful resource to you as you transition out of dental practice ownership. Also, keep in mind that if the DSO is a startup, for example, they may have limited funding and a smaller community to draw from. This recourse might be an exciting venture for younger dentists who are interested in getting involved with DSOs during the initial phases.
Finally, this may be an indicator of how 'corporate' or 'mom and pop' their approach is. Smaller, tighter DSO communities may mean less corporate structure and more retention of practice uniqueness. Whereas DSO groups scaling into the hundreds may pose a more uniform and 'corporate' structure that may not align with the values of the prior dental practice owners. They may pull from their numerous resources which could mean they flip your practice on its head with changes and potentially even replace your entire staff! If you are staying on board for a few years, this would be a difficult experience.
What Are the DSO's Total Revenue Projections?
This question is particularly important because it says a lot about the financial standing of the DSO. With this you can determine if their current model is growing or shrinking, are they prospering or steadily losing money? Have they had to sell any practices in the last 6 months or so? This could be an indicator that something has gone wrong with their business model and if that's the case, do you really want a struggling group to take over your life's work?
Remember, Selling to a DSO Is Not Your Only Option…
If you can't find a DSO that you feel comfortable passing on your life's work, there are other options:
Bring in an associate doctor who can supplement some of the hours you work as you transition out of practice.

Sell to an independent buyer

Hire a Dental Transitions Team like JPA who can find a buyer who aligns with your practice values
Consider Hiring a Dental Transitions Team
JPA is a dental brokerage services provider specializing in dental transitions, and we work with buyers and sellers of dental practices every day, including vetting DSOs. We will guide you through the process, so you make the best choice for you and your patients. Explore our streamlined transitions process, Transitions Plus+, and contact us for to schedule a discovery call to understand your options: