In this section we're going to talk about a couple things to keep in mind when you're getting ready to sell your practice. We'll cover:
Why preparing for debt pay-off is so important in the sale of your practice.

How to optimize your practice by keeping track of your numbers.
Why debt pay-off is so important in the sale of your practice
Before you get the ball rolling on retiring and selling your dental practice, you'll need to position your debts for pay-off before you sell your assets. It can be easy to forget about debt payoff during the transition process (your broker won't though) but it must be addressed. In the structure of an asset sale, the assets are sold "free and clear". Any lien on assets being transferred should be paid off at closing. Here are the steps you should take in regards to your debt when selling your dental practice:
Be aware and prepared that practice debt will need to be paid off before or at closing.

Many doctors will not want to pay off their debt beforehand. Rather, they want to use the proceeds of the sale to pay off debt. While that may be fine, your professional team needs to know that in order to prepare for the transition. Not only does knowing this help your team, but it makes it a more seamless transition process for you.




To get started preparing for your transition,

figure out what debt you have and who it belongs to.

Think about what assets you can sell, who your equipment loans belong to, and in general, the asset loans you have. A UCC search can often tell you what is owed, but does not always show what the debt is for or if it has been paid off.

Do a UCC search to look through financial records

and find all the loans you have that are secured by a UCC statement. You will want to make sure to do this well in advance of closing. This is something that your broker can help you do. They will follow up, find it for you, and take additional steps to make sure that it's paid off at closing. This involves things like contacting them, getting payoff letters and official letters with critical numbers.

Contact the lenders to get payoff letters (this can take up to a week).

You may have debt at a dental supply company or another company who is securing your loan. This debt can be paid off directly from the proceeds of the sale. In fact, the buyers bank can send the check directly to the company you owe. The main premise is, when you need to sell, you must satisfy all loans on the assets.



Get a financial advisor or broker involved.

Having advisors around you will keep you focused and avoid any legal ramifications.



Don't forget about tax liens. A quick online search will generally show any tax liens that may be attached to the practice or assets. These will need to be paid off as well, but obtaining the required payoffs can be time consuming. Plan ahead.
**Remember to do a UCC search to see your loans, or look it up at the secretary of state. Once the debt is paid off, make sure to follow up with your lender and make sure they have filed a termination. Don't forget this step - make sure to keep track of all aspects of your business, including debt payoff, and follow up.
Be aware - In most cases, our clients already know about their debts and the need to have them resolved. If a selling doctor is well apprised of their debt situation, and has already made plans with their financial advisor, broker, or other trusted professional for resolving all outstanding debts, that can make for a much more efficient, easy transition. Don't worry, having debts at closing is completely normal.
How to optimize your practice by keeping track of your numbers
When preparing your practice for the sale it's important to answer a few key questions about your numbers. For example:
How are you tracking the growth and health of your dental practice?





What key dental metrics are you tracking?





Do you have production planning metrics for each week, month or on a quarterly basis?





Are you appropriately tracking accounts receivable and patient credit balances?
Knowing the numbers of your practice is crucial for analyzing growth or turning around a struggling practice. It is important to understand your financial statements to help you understand how your practice arrived where it is today.
However, every practice's goals, opportunities, challenges, and business conditions are unique and directly affect performance targets. Make sure to monitor your practice's numbers so you can make clear decisions moving forward.
First, Set Goals to Grow Your Practice
Goals can give you and your staff a good direction for growth, and can keep everyone accountable. Do you have a set of future goals for your dental practice?
Dental metrics that will help you set goals within your practice include:
Focus on your recall program

Maintain overhead at 65% or less and review and audit your overhead

Follow up on no-shows and last-minute cancellations

New patient numbers

Review your procedure mix

Monitor total office production and net production

Factor in unscheduled time units. The amount of missed appointments climbs in the summer. Ensure that your scheduling extra time units every day.
What is Your True Collection Percentage?
As your practice grows, write-offs and uncollected fees accumulate over time. Ensure that you and your team are keeping track of collections and accounts receivables.
Net collections should be 98% of your net production for a fee for service practice.

Your collections at the time of treatment should be, on average, about 50% for a fee-for-service practice. Ensure your patients know their payment is due at the time of their service.
Accounts receivable (AR) should be around 40% to 80% of one month's net production. Ensure that you are cautious of this number; extending payment plans can have a big impact on your practices' numbers.

Monitor Net Production for Doctors & Hygienists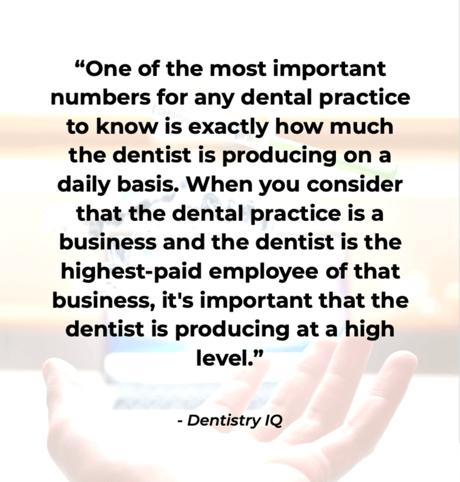 Each doctor's net production divided by the days each doctor works. That's how you determine each doctor's daily average.
Do you also know the average number of patients per dentist per day?
Track your hygienists' production numbers
Each hygienist's production / # of days the hygienist works is a good starting point

Hygienists goal production should be 3 times their salary - this is the "gold standard"

Ensure your hygiene department is offering a comprehensive screening

Are you overstaffed or understaffed in RDH department?
Where are your new patients coming from? Ask yourself where your new patients are coming from. Which sources are referrals from Google versus a friend?
Set monthly goals on new patient acquisition to understand where they are coming from. If you find that your referrals from patients are low, this may be an indicator that your patients don't feel they can refer you to friends and family - or that you should be asking them to refer more often. If you're not getting enough referrals, use digital marketing tactics to generate referrals online or set up a strategy to bring in referrals through your patients and employees.
How many do I need? Total office production divided by 4,500 gives you a good baseline.
Ask for referrals

Encourage new patients to refer their families to your practice

More comprehensive doctors need less new patients than those who refer out many of their treatments
Remember, keep your finger on the pulse of your practice. These are just a few numbers we look at when developing a plan to increase the overall value. Buyers looking to purchase your dental practice want to know how healthy your business is, and each of these numbers helps to build that picture.
Knowing the health of your practice gives you the knowledge, awareness and drive to make changes to make improvements before you sell. It also helps defend a high value.